If you've ever dreamed of walking into a huge closet where everything has a designated place, then a large custom walk-in closet is perfect for you. Custom closets can be designed to any size, and those with ample space can be transformed into a luxurious dressing room to rival that of any celebrity. Clozetivity of Charlotte can help make this dream a reality. Learn more about our large custom walk-in closets below, and schedule a free consultation today!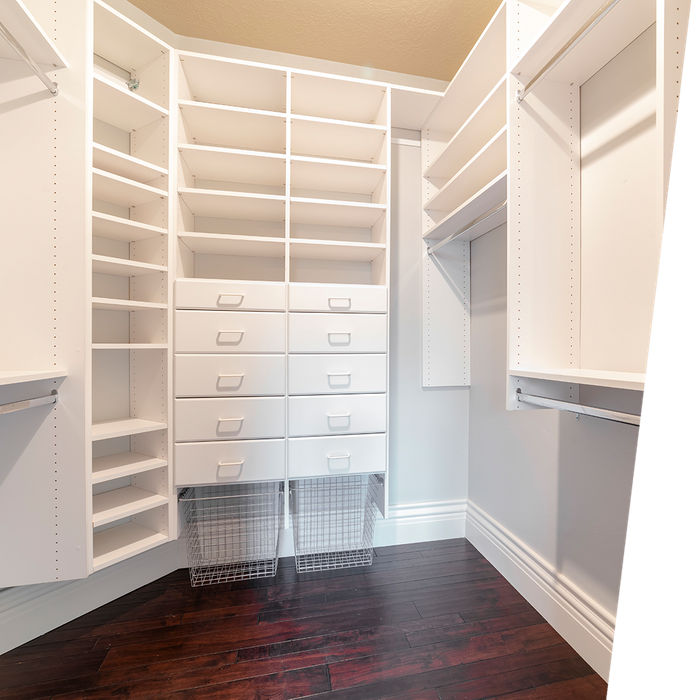 Have a Lot of Storage Space
One of the biggest advantages of having a large custom closet design is its ability to accommodate a vast collection of clothing, shoes, and accessories. In a typical builder grade closet, space can be limited, often forcing you to store items in different locations throughout your home. With a large custom closet, everything can be stored in one place, making it easy for you to find what you need and organize your wardrobe.
Complete Customization
Because a large custom walk-in closet is designed with space in mind, there are plenty of options for customization. You can choose from a variety of built-in soft-close drawers, cabinets, adjustable shelving and single/double hang options. You can even include an island or seating area or vanity table with drawers to create a more relaxing and luxurious atmosphere at your Charlotte home.
Choice of Colors & Finishes
A large custom closet design also provides the opportunity to incorporate different materials. Your large walk-in closet can be designed with a variety of textures, colors, and finishes that match your personality and style. For instance, you can choose between a variety of standard and upgraded colors, different profiles for drawers and doors, and finishing touches like brass handles, gold hardware, or crystal knobs.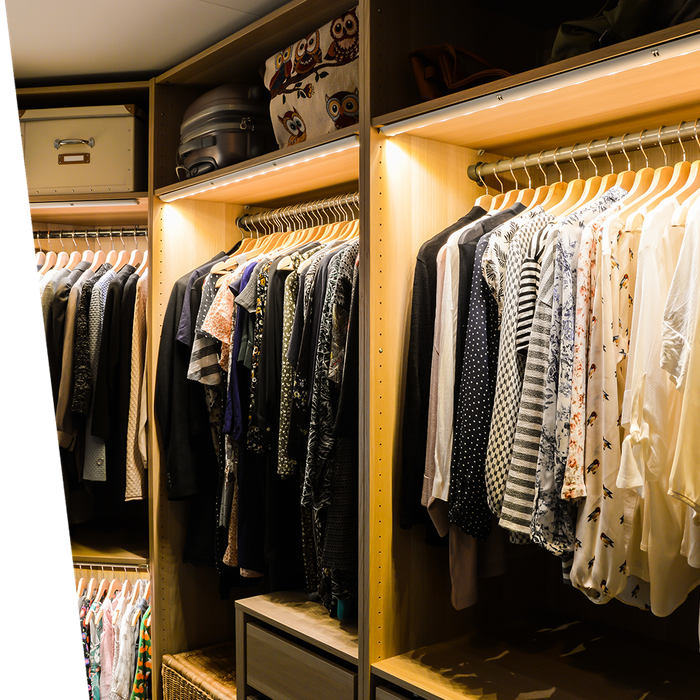 Custom Accessories
Another key feature that can be incorporated in a large custom walk-in closet design are accessories. You can add specialized features like a shoe rack, valet rack, belt/scarf/tie racks, jewelry trays, drawer locks or built-in hampers.
CALL OUR CLOSET COMPANY TODAY
Large custom walk-in closets are the perfect way to add luxury and functionality to your Charlotte home. They offer plenty of space for all your belongings, can be customized to your specific needs, and provide a one-of-a-kind space that is uniquely yours. To get started, call Clozetivity of Charlotte for a free quote today!
What our customers are saying
"Loved them"
"I just had two closets remodeled and loved them. I've scheduled them to come back and turn an unused spare bedroom into my dream closet. Can't wait to see the results!"
- Page P.
"Very Professional"
"Great experience! They showed on time, where very professional, left my house clean after they finished installing our pantry shelves. Thankful for the install and creating more usable space."
- Carlo D.
"Wonderful Job"
"We are so happy with our new closet system! Tim and his team did a wonderful job for us. We are very happy with the results! Thank you so much!"
- Kevin H.